UPVC problems?
Are your upvc door or window locks becoming stiff or loose? They may only need adjusting or realigning. However, this could also be a sign that the lock mechanism is close to failing. It is advisable to get them replaced sooner rather than later as they may eventually fail in the locked position.This not only makes life difficult for you but makes the repair much more difficult and expensive.

At northants lock services we specialise in all aspects of double glazing repairs, from locks, handles and hinges, to replacing broken or misted up glazing. Most repairs are completed in 1 day and many on the first visit as we carry a comprehensive stock of locks, mechanisms and associated spares with us.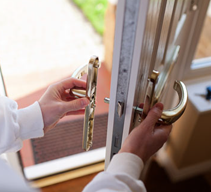 With over 20 years experience in upvc repairs, you can be confident of getting an honest and professional service from us. There is no call out charge, vat or hidden charges. The price you are quoted is the price you pay.

If you have a problem, contact Kevin either using our online enquiry form or phone 07751 626540 for a speedy response.